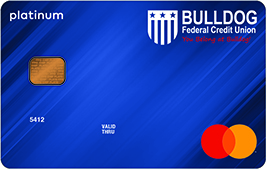 Introducing the Bulldog Platinum Mastercard!
Choose the way you want to save with 5 new credit cards tailored to your personal spending style. No matter which card you choose, you'll get competitive rates and all the benefits of a big-name card with all the convenience and personal service you expect from your credit union, including:
NO annual fee
NO balance transfer fee
NO cash advance fee
NO foreign transaction fee
Zero liability protection
Enhanced ID theft protection
Low minimum payments
24-hour member support
Choose the card that's right for you!
Low Rate: If you're the type of cardholder who carries a balance, then this is the card for you. You'll get all the great benefits listed above plus a great, low rate based on your credit worthiness. It's a no-frills way to save every month.
Cash Back: If you typically pay off your balance every month, then this is your card. You'll earn 1% cash back on every purchase! Not just on special categories or categories that rotate every month. Earn 1% cash back on every purchase every day. And you can choose to apply your cash back monthly as a statement credit or have it transferred directly to your Bulldog FCU share (savings) account.
Rewards: From must-have electronics to the hottest toys…or something special for yourself…this card's got you covered. Need to get away? Redeem your points for top destinations around the world or in your own back yard. Earn 1 point for every dollar you spend. Rewards expire after 5 years.
Student: If you're enrolled in a 2- or 4-year college, university or trade school, then this card is a great way for you to build a valuable credit history and have access to cash when you need it.
Business: Gain access to cash flow, enjoy financial flexibility, boost your credit rating, keep better control on employee spending, and more with a business credit card that makes it easy to keep your personal and business expenses separated.
Apply today!
Ready to save with Platinum Mastercard? Download the application and drop it off at any branch or fax it to (240)420-2007. If you have a way to send it securely, you may email it to Loandept@bdfcu.com (never send sensitive information via unsecured email). Or stop by any branch to pick up an application. Give us a call at (301)797-6318 for more options.
Already have a Platinum Mastercard?
Access your credit card account online here.
Important Numbers
24-Hour Card Services & Disputes: 866-590-7731
Lost/Stolen: 800-449-7728
Card Activation: 800-631-3197
PIN Now: 888-886-0083
Rewards: 800-637-7728