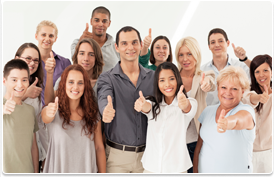 As your trusted business banking partner, we're dedicated to helping you grow and prosper through a wealth of value-driven financial products and services tailored to meet the needs of your small to mid-size business. Your business relationship begins with a minimum deposit of just $25 into a business share/savings account. A business share account allows you to enjoy access to other accounts and services, including business checking accounts, money market share accounts, loans, and more.
Shop and compare. You'll keep more cash flowing into your business instead of into fees and charges when you take advantage of all the features that make a Bulldog business account the most cost-effective choice for your small business:
No minimum daily or aggregate balance requirements
500 free items per month PLUS lower fees and generous thresholds for higher volumes*
Free Debit Mastercard® with customizable limits that grow as your business grows
Free e-Statements
Real-time transaction posting for same-day credit with no cutoff
Remote deposit capture (includes free software and training)
Comprehensive merchant services
Easy access to credit with flexible terms and quick turn-around
Sweep* capabilities that let you maximize your income automatically
Start Saving Today!
Visit one of our convenient branches to open a Bulldog FCU business account, or call us for more information. We'll be happy to discuss all the ways a Bulldog business account would be a perfect fit for your small business.
*The following fees apply to business accounts:
$0.30 per item in excess of 500 items per month. Items are defined as: checks presented for deposit across the counter, debits (cash withdrawals, ATM withdrawals, Visa debit card purchases, ACH debits) and credits (ACH credits, deposits, ATM deposits)
0.10% for cash deposits and/or cash withdrawals in excess of $10,000/month
$10 per sweep