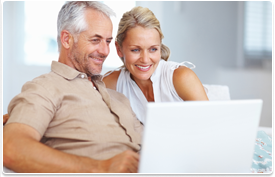 Save time, resources, and money when you elect to receive your statement electronically. Free e-Statements are faster and safer than getting your statements by snail-mail. And if you're between the ages of 18-65, e-Statements will save you money, too, because you'll avoid the $2 printed statement fee.
You will also get your year-end tax documents (forms 1098 and 1099) electronically instead of by mail. That means you can file your return sooner and get your refund faster! (If you are enrolled in e-Statements, you will not receive paper copies of tax documents by mail.)
Ready to save time, money and resources? Apply for your e-Statement PIN now.
Access e-Statements 4 Easy Ways!
Courtesy E-mail: Use the link in the courtesy e-mail you receive each month when your new e-Statement is ready. When you use this link, your login ID is pre-filled so you save time and keystrokes. Not getting a courtesy email? That means we don't have your current e-mail address on file. Be sure to add us to your address book or "safe senders" list, and notify us immediately of any changes to your e-mail address.
Quick Link: Use the "Access Your e-Statement" Quick Link on the home page of this site and log in with your e-Statement login ID and password.
Internet Banking: Open the e-Statement tab inside Internet Banking and enjoy single-sign-on convenience…no need to log in again!
Web Browser: Use your browser and/or bookmark to access the site as you would any other website.
You cannot receive both paper and electronic documents. Once you register for e-statements, your paper statements and tax documents will cease. You will be able to accumulate up to 24 months of e-statement history and 3 years of tax documents online.
Acrobat Reader is required to view your statement online.

(new window/tab)
Already enrolled? Get your statement now. (new window/tab)