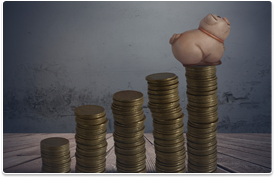 Enjoy easy access to your money while you earn a greater return with a Money Market Share Account (MMSA). With no maturity timeframe like a certificate or IRA, an MMSA gives you flexibility and liquidity with superior earnings and no penalties for early withdrawal. Simply maintain a balance greater than $2,000 to earn a competitive return and avoid a low-balance fee.
Your money works harder in this tiered account because the more you save, the more you earn without locking your money into a term account. And BFCU's tiers are easier to achieve than most other financial institutions in the market so you'll earn more faster!
$2,000 – $9,999
$10,000 – $24,999
$25,000 – $49,999
$50,000 – $99,999
$100,000 or more
You can make unlimited deposits and up to 6 transfers or withdrawals per calendar month. We'll even give you your first order of 40 checks for free. What's more, your funds are insured to $250,000 by the National Credit Union Administration at no cost to you.