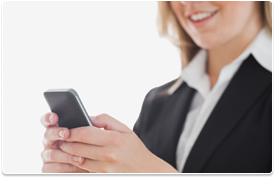 In order to maintain optimum online security, we no longer support older operating systems. Mobile users must upgrade their operating system to 5.0 or higher for Android and 8 or higher for Apple. Members who do not have the minimum operating system requirements may be unable to access our online services on their mobile device.
Check your balance, view transaction history, transfer money between your accounts, view check images and more quickly and easily from any web-enabled mobile device. Mobile Banking is safe, quick, easy to use, and free.* You can access your accounts via browser in Mobile Professional or download the free app for your Android or iPhone smartphone.
When you access Mobile Professional through your browser, you'll have access to bill pay** (if you're registered for that product) and to PUP (People U Pay). PUP allows you to send money to your own account at another financial institution (A2A), or to send money to or receive money from any person with an email or mobile number (P2P).†
Through the mobile app, you'll have access to Smart Deposit On the Go, aka SmartDOG, a mobile deposit capture feature that lets you take a picture of your check and deposit it to your account remotely without having to visit the credit union. SmartDOG is quick and easy to use. Remember to include "presented via mobile deposit" on the back when you endorse the check‡.
While you cannot access bill pay directly through the app yet, simply click the "pay your bills" banner at the bottom of the page prior to logging in to be redirected to Mobile Professional.
Search 'Bulldog FCU' in your app store and download the free app now!
No personal information is stored on your device or in the mobile application.
*Member is responsible for mobile device and data plan. Functionality on all tablets, smart phones, and devices is NOT assured.
**User must first register for bill pay and set up payees and e-bills on a PC before using bill pay through Mobile Professional.
†$2.00 per transaction fee for transfers to another financial institution; $1.00 per transaction fee for transfers to another person. $25.00 failed transaction fee. View PUP Fees & FAQs (PDF-new window/tab) or click 'Help' inside PUP for more information.

‡Funds will not be immediately available for withdrawal. Limit: $5000 per check. See Remote Deposit Capture User Agreement (new window/tab)for full details.